David Guetta @ Parkallee 2-Pyramide Vösendorf-Ausztria
A Stargate Group elhozza Nektek az új "Stargate Premium Series" keretében ,a Highclass Event sorozat megnyitójaként a valaha volt legnagyobb house rezdezvényt Ausztriába: David Guetta in concert!
"Hands up in the air!" - a világ legjobb House DJ-je, David Guetta első alkalommal látogat el Bécsbe az "in feldolgozásokkal , mint a."Just a little more love", "Love don't let me go", "The world is mine", melyeket sokat concert"-el! Már 17-évesen nevet szerzett magának a párizsi house rajongók táborában, olyan sikeres játszottak a rádiócsatornák. Továbbá 2007 nyarán ő részesült abban az elismerésben, hogy az egyik legtekintélyesebb zenei magazin, a "DJ Mag", a világ legjobb House DJ-jévé választotta.
Az ötletes francia pillanatok alatt meghódít minden szórakozóhelyet, és 2008. április 4.-én Bécsbe jön. Ezen az estén a Dancehall-király megmutatja tudását, ahogy társaival egy live show keretében, egyéni DJ-szettek és együttes DJing tökéletes kombinációját adja elő.
Joachim Garraud, sztár poducerrel és DJ-vel, továbbá Tara MC Donald énekesnővel ("Delirious", "You're not alone"), Chris Willis-el ("Love is gone", "Just a little more love", "Love, don't let me go", "Money") és JD Davis-el együtt egy hihetetlen show-t live performance-t mutatnak be.
De akinek mindez még nem elég – Energy Club Files proudly premieres: the Club Floor with "In Bed with Space": JONATHAN ULYSSES, ABEL RIBALLO & énekes James Smith, Flip Capella,
Tim Anderson!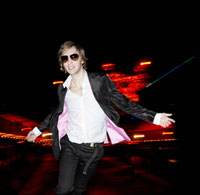 8 international House Acts: David Guetta in concert! - The Biggest Happening In
Austria For Clubbers Ever
Hard Facts:
David Guetta in concert
Időpont: Péntek, 2008. április 4. 22:00 órakor
Helyszín: : 2334 Pyramide Vösendorf, Parkallee 2
Highlights:
House DJ David Guetta
Sztár producer és DJ Joachim Garraud
Tara MC Donald, Chris Willis & JD Davis live
Jegyek:
elővételben: € 30.-, VIP jegyek elővételben: € 58.- az Ö-Ticket-nél (
www.oeticket.com
),
valamint a helyszínen: € 36.-
VIP asztalfoglalás:
monika.milde@vipservice.at
; 06 64 948 15 12